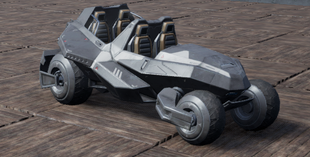 There is currently one vehicle in Fragmented as of build 16.5.4 and that is the Off-Road Vehicle. Unfortunately, it cannot currently be crafted. 
Off-Road Vehicle
Players who have their Electronics at level 10 will have learned the recipe for the Off-Road Vehicle. Crafting this item will create the Off-Road Vehicle Key . This vehicle can carry a driver and three passengers. Where the player is standing, determines where they are seated when using the Enter Vehicle command ("E" by default). 
Ad blocker interference detected!
Wikia is a free-to-use site that makes money from advertising. We have a modified experience for viewers using ad blockers

Wikia is not accessible if you've made further modifications. Remove the custom ad blocker rule(s) and the page will load as expected.