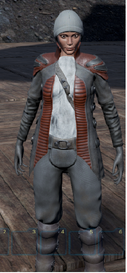 Players can put points into textiles to learn armor crafting recipes. New players will be able to craft cloth gloves and boots with the approriate materials, but as they start out with 7 points, putting more points into Textile will allow them to create a complete set fairly early in the game, protecting them a little better. Cloth garments however have 0% resistance to the elements. Some of the recipes in this list will require a Crafting Station to create them.
Level 1
Level 2
Level 3
Level 4
Level 5
Level 6
Level 7
Level 8
Level 9
Level 10
Ad blocker interference detected!
Wikia is a free-to-use site that makes money from advertising. We have a modified experience for viewers using ad blockers

Wikia is not accessible if you've made further modifications. Remove the custom ad blocker rule(s) and the page will load as expected.